About Us
Judi Gorsline
Judi started competing as a very young girl and started "catch riding" horses at horse shows in her teens. Judi won a number of Spruce Meadows Scholarships and received instruction from Spruce Meadows riding master Albert Kley. She continued riding for other trainers, including Claudia Cojacar at shows throughout Western Canada, having great success in the hunter ring and progressing to the open jumper level. Long time Canadian Team member, Gail Ross, gave her two open horses, including the renowned "Pinnacle", which she successfully competed at the open jumper level. She began taking on training of young horses on her own and also assisted Carol with teaching young riders. Together they developed many successful competitors over the years. Judi has continued to compete with her own horses, and as a professional rider for others at all levels. Some of her notable achievements include:

Shield of Excellence for Outstanding Junior Jumper at Spruce Meadows
Spruce Meadows Chrysler Derby Champion
2 time Chrysler Leading Canadian Rider Award
Selected as top junior to compete for Canada in Equador
Winner of numerous Spruce Meadows scholarships
East/West Challenge team member at Toronto Winter Fair
Strathcona County Top Female Athlete Celebration Award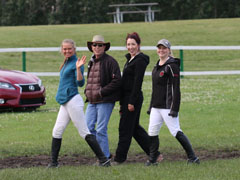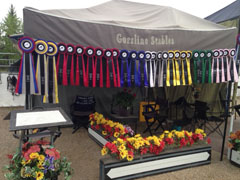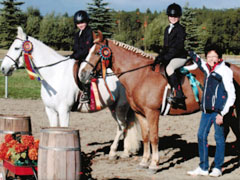 Carol Gorsline
Carol has used her extensive experience to help riders of all levels reach their goals including many who have gone on to operate their own equestrian facilities including Dayton Gorsline, Darrin Dlyn, Shauna Cook, Danielle van der Werf, Heather and Val Archer, and Jennifer Arbuckle, just to name a few. World Champion Gail Greenough also rode with Carol and Judi as a junior rider.
Carol is a strong advocate for local show jumping and runs several show jumping competitions every year in the Edmonton area and is an active member of the Edmonton Hunter/Jumper Association.

Numerous Gorsline riders have followed their passion for horses and riding on to other careers including 5 veterinarians, and counting! Carol is also a conscientious community member and has been awarded the Community Spirit Award of Excellence by the Robin Hood Association by offering employment to disabled local adults.